2010 Bronko Nagurski Watch List Announced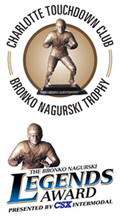 DALLAS (FWAA) – The 2010 Bronko Nagurski Trophy Watch List features the best and brightest of the upcoming season's defensive players. One of the more than 70 players on the list most likely will receive the Bronko Nagurski Trophy that is awarded annually to the nation's best defensive player by the Football Writers Association of America and the Charlotte Touchdown Club.
Players may be added or deleted to the Bronko Nagurski Watch List during the season. Each week during the 2010 season, the FWAA will choose a Defensive Player of the Week. If that player is not on the Watch List, he automatically will be added. The FWAA and the Charlotte Touchdown Club will announce five finalists for the Bronko Nagurski Trophy on November 18.
The annual Bronko Nagurski Trophy Banquet will be on Dec. 6 at the Westin